HOTEL GALERIE TREBON
| | | | |
| --- | --- | --- | --- |
| | For booking you do not need a credit card! | | |
Hotel Galerie Trebon - 4 Star Hotel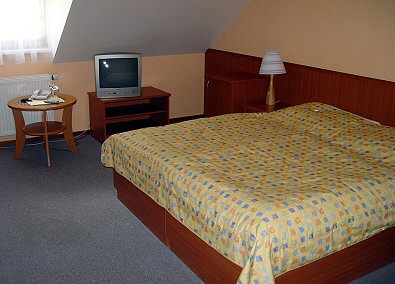 We are very glad that you've decided just to our Hotel Gallery Třeboň. Empire House, where you will find our hotel Třeboň Gallery is located in the picturesque center of town Třeboň Rosenbergs in a quiet street. In our hotel for you we have 12 rooms with accommodation capacity for 30 guests. All rooms have private bathroom facilities, telephone and satellite TV. If you wish to lend your room a DVD or video player. Of course, the hotel is a restaurant and bar. An integral part of our service is friendly and helpful staff. Looking forward to your visit.
we invite you to a pleasant stay in our Hotel Gallery Třeboň restaurant. You can choose from a rich menu of regional, Czech and European cuisine, taste the wine archive, or give a glass of Czech beer řízného or use the rich assortment of soft drinks. Breakfast will of course offer the buffet and the children staying in the three years free of charge.
Hotel Galerie Trebon is 4 Star Hotel in Trebon in Center (Rozmberska 35, Trebon)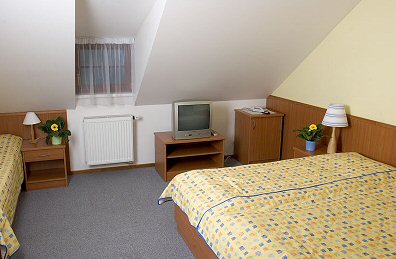 Hotel Gallery Třeboň offers home comfort in a peaceful and quiet historical city center. Environment home interior also evokes členitost modernized historical burgher house.From the hotel makes a good quality hotel accommodation, excellent cuisine and great service. Exactly what we offer. Become a member for a few hours of our small family hotel with your pets.
Hotel Galerie Trebon - Arrival Details
Reservation
Tel:+420 312 243 298

Mob:+420 777 928 789
Location
Address of Hotel Galerie: Rozmberska 35,