PENSION ASPEN HARRACHOV
| | | | |
| --- | --- | --- | --- |
| | For booking you do not need a credit card! | | |
Pension Aspen Harrachov - 3 Star Hotel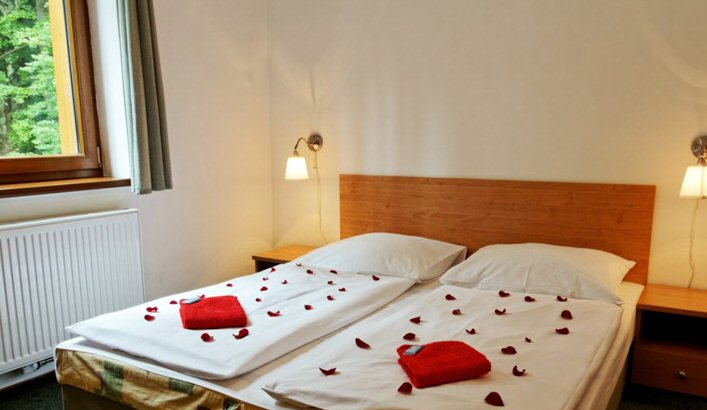 Pension Aspen is situated in a picturesque area in the middle of the tourist resort called Harrachov. Its location provides a beautiful view of the surrounding mountains and the ski resort that has ski-jumps. Only 400 meters from the guesthouse you shall find the terminal of the four-seater chair lift, a track, tennis courts, swimming pool, mini golf and a multitude of various restaurants and shops.
In our guesthouse Aspen, we offer you all-year-round accommodation. You can choose from two- to five-bedroom suites containing all facilities along with a television set with satellite programs. We specialize in offering accommodation in large holiday flats with fully equipped kitchens, a fireplace and a patio or a balcony.
Pension Aspen Harrachov is 3 Star Hotel in Harrachov in Center (Harrachov 426, Harrachov)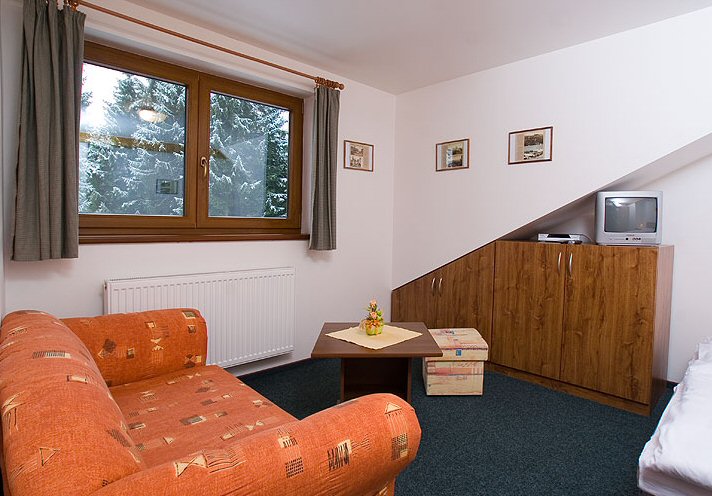 Apartment A1, A2 and A3 are approximately 30 m2. It contains two rooms, a hallway, a bathroom and a toilet. It is furnished with five beds, relevant other furniture and television set with a satellite. From one side of the room you have a view of Čertova hora in Harrachov (the Devil's Mountain) and the ski-jumps and, from the other side, you can see the forest.
Flat 1 – situated on the ground floor and measuring approximately 60 m2, is very attractive for larger families. It has three bedrooms altogether, a fully equipped kitchen, two bathrooms with a toilet and private patio with a view of the forest. The flat in Pension Aspen contains seven classical beds, including a sofa bed for one or two persons. Flat 2 and 3 are approximately 55 m2 and is furnished with four beds and a sofa bed. The flat has two separate bedrooms, a bathroom with a toilet, a fully equipped kitchen, a living room with an exit to the balcony that has a view of the ski-jump on Čertova hora (the Devil's Mountain). Naturally, the flat is fully furnished and has a television set with a satellite.
Pension Aspen Harrachov - Arrival Details
Reservation
Tel:+420 312 243 298

Mob:+420 777 928 789
Location
Address of Pension Aspen: Harrachov 426,