Zadov Accommodation
Accommodation Zadov
Mountain village Zadov, typical for its scattered hamlets located at about 800-1050 meters above sea level. It is connected with the development of glass industry in the 18th century. The hotel was named after Churáňov peak (1.118 m) under which it is situated. Churáňov peak is now especially as the centre of winter sports and there is a meteorological station and look-out tower at the top. In close proximity to the meteorological station there is a cross-country skiing area with maintained cross-country skiing tracks from 2 - 15 km and ski jump towers. In Churáňov there are also several skiing slopes with ski lifts and one funicular which ends directly under the peak. The slopes are suitable for both beginners and experienced skiers. In summer the region is ideal for hikers, cyclists (there are numerous cycling and hiking trails of various difficulty levels), mushroom-pickers and blueberry-pickers. There is a 7 km long educational trail along the peak which introduces tourists the most interesting parts of this region.
Accommodation Zadov
Number of results: 1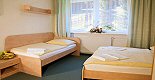 Mountain EA Hotel Churáňov *** Superior is located in the heart of Šumava (the Bohemian Forest) at an altitude ...
Double room (1 night)90 EUR / 2250 CZK
Packages