Telč Accommodation
Accommodation Telč
Telč is a town in southern Moravia, near Jihlava. Telč contains a castle and a long urban plaza with well-conserved Renaissance houses; since 1992 all of this has been a UNESCO World Heritage Site. The builder of the castle was Zachariáš of Hradec, after whom the plaza was named; his name is also related to that of the city of Jindřichův Hradec. Telč was founded in the mid-14th century; the Roman-style tower for the Holy Spirit proves that there was already a settlement there. The city walls and the Church of the Ascension of Mary are Gothic in style.
Accommodation Telč
Number of results: 1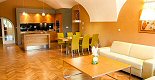 In the Chortnitzer house
there are 4 extraordinaly spacious and comfortable apartments with total capac ...
Double room (1 night)60 EUR / 1500 CZK
Packages