Stare Splavy Accommodation
Accommodation Stare Splavy
Old Splavy offers a unique concentration of recreational facilities and a range of leisure in the middle of natural beauty Máchova region. Are the starting point of many hiking trails, such as a nearby Hradcany walls in the former military training area in which we find still unspoilt nature and numerous bizarre rock formations. The village and its environs serve as a backdrop for several filmmaking. Despite current attempts by the massive commercial exploitation of space to Wed Splavy still maintain its original atmosphere, dating back to pre-war glory spa resorts.
Accommodation Staré Splavy
Number of results: 1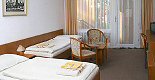 Bezděz Hotel
is located just 80 km from Prague, at an altitude of 270 m, in the Old Splavy and is almos ...
Double room (1 night)95 EUR / 2390 CZK
Accommodation Stare Splavy
Packages