Senohraby Accommodation
Accommodation Senohraby
Senohraby is a village near Říčany, Central Bohemian Region, Czech Republic. Senohraby is tourist district. Senohraby is connected with the name of Josef Lada - Czech famous painter and writer.
Accommodation Senohraby
Number of results: 1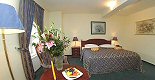 EA Hotel Sen
is situated not far from the highway D1 - Exit 21 - a nice accommodation near Pr ...
Double room (1 night)82 EUR / 2060 CZK
Packages