Roztoky Accommodation
Accommodation Roztoky
Roztoky is a small town in the Czech Republic. Roztoky is located on the Vltava River, just north of Prague, the country's capital. The town was first mentioned in historical documents in 1233 CE.
Accommodation Roztoky u Prahy
Number of results: 1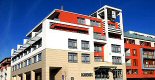 The Academic Hotel
is built on the central square in Roztoky u Prahy and will form one architectural wh ...
Double room (1 night)50 EUR / 1250 CZK
Packages