Prerov Accommodation
Accommodation Prerov
Přerov is a city in the Olomouc Region of the Czech Republic, situated on the Bečva river. Přerov is a statute city. Přerov is situated about 22 km southeast of Olomouc. Its geographical location makes it an intersection and the heart of Moravia in the Czech Republic.
Accommodation Přerov
Number of results: 1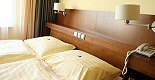 Hotel Jana****
you can find in a quiet part of Prerov. Hotel offer accommodation in 88 double-bed rooms ...
Double room (1 night)67 EUR / 1690 CZK
Packages