Prague Hostels
Prague Hostels:
Filters:
Compare prices for your stay:
Prague Pensions:
Number of results: 3
Hostel A Plus
Prague 1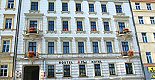 A Plus hostel
is located in Prague's historical center, just five (10) minutes walking distance from We ...
Double room (1 night)42 EUR / 1050 CZK
Hostel AZ
Prague 1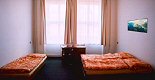 AZ Hostel in Prague
is a new, in fashion appointedhostel directly in the Wenceslas square. We provide a ...
Double room (1 night)43 EUR / 1080 CZK
Hostel Franz Kafka
Prague 1
Hostel Franz Kafka
can be found in the center of city Prague, in the street Kaprová. Locality where the ...
Double room (1 night)44 EUR / 1100 CZK
Results on the map: