Pardubice Accommodation
Accommodation Pardubice
Pardubice is a city of around 100 000 inhabitants. It is situated in lowland of Eastern Bohemia on the banks of the rivers Labe and Chrudimka. Many people think it is the town of industry. When they come there, they are surprised. Pardubice is mainly the town of sport, culture and history.
Accommodation Pardubice
Number of results: 3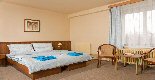 In our hotel you can choose from several kinds of accommodation, in newly reconstructed accommodation units wi ...
Double room (1 night)19 EUR / 480 CZK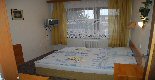 Cindy Hotel offers quality accommodation in a quiet location near the center of Pardubice. The total accommod ...
Double room (1 night)33 EUR / 840 CZK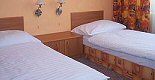 Thanks to
Hotel Harmony
location, capacity and technical facilities, the hotel is a convenient venue fo ...
Double room (1 night)50 EUR / 1250 CZK
Packages