Olomouc Accommodation
Accommodation Olomouc
Olomouc je statutární město na střední Moravě a centrum Olomouckého kraje. Rozkládá se v Hornomoravském úvalu na řece Moravě při soutoku s Bystřicí a je obklopené úrodnou krajinou Hané. Olomouc byla vedle Brna historicky politickým centrem Moravy, dnes v Olomouci sídlí Univerzita Palackého a arcibiskupství, město je tedy pro celou Moravu centrem duchovní správy a vzdělanosti. V historickém jádru města, obklopeném rameny řeky Moravy je situováno několik velkých náměstí, z nichž na Horním náměstí je umístěna radnice s orlojem z 15. století, Herkulova a Caesarova kašna, a především památka UNESCO sloup Nejsvětější Trojice, postavený v roce 1740. Pozoruhodný je také arcibiskupský kostel dóm svatého Václava. Na druhé straně historického jádra Olomouce je budova Univerzity Palackého. Pro svou neopakovatelnou atmosféru je Olomouc vyhledávaným střediskem mezinárodních konferencí a festivalů. Více než čtyřicetiletou tradici má Academia film Olomouc (AFO), mezinárodní festival dokumentárních filmů a videoprogramů. Dále pak FLORA Olomouc.
Accommodation Olomouc
Number of results: 6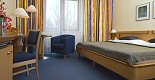 Business
Hotel ALLEY
is situated directly in the heart of the historic centre of Olomouc, in a calm env ...
Double room (1 night)53 EUR / 1344 CZK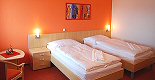 Newly reconstructed
Hotel Senimo Olomouc
you can find us about 500 meters from the main railway station ...
Double room (1 night)56 EUR / 1406 CZK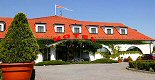 As a three star
hotel Pracharna
, the rooms are built to the latest standards with private bathrooms, in ...
Double room (1 night)65 EUR / 1625 CZK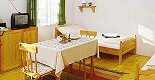 The
Hotel Hanacky Dvur***
has been established from an original peasant estate dating from 1854 and it ...
Double room (1 night)63 EUR / 1584 CZK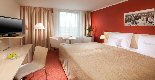 Clarion Congress Hotel Olomouc offers exceptional comfort in modern rooms and conference and gastronomy facili ...
Double room (1 night)86 EUR / 2150 CZK
The Hotel GEMO
is privately owned and does not belong to any hotel chain. The hotel opened in 1994 when ...
Double room (1 night)89 EUR / 2225 CZK
Packages