Obrnice Accommodation
Accommodation Obrnice
Obec Obrnice se nachází v Ústeckém kraji, v okrese Most.První písemná zmínka o obci Obrnice je z roku 1282. Obec Obrnice se rozkladá v malebném údolí Českého středohoří - Chráněné krajinné oblasti. Kotlina, v níž obec Obrnice leží, je naplavenina řeky Bíliny.
Accommodation Obrnice
Number of results: 1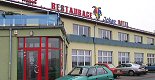 The hotel Joker
is a newly built and furnished one. It is a non-stop hotel with a restaurant. You will ...
Double room (1 night)42 EUR / 1050 CZK
Packages