Luhacovice Accommodation
Accommodation Luhacovice
Luhačovice B> is the fourth largest in the Czech Republic and the largest in Moravia. Treated here especially people with respiratory ailments, indigestion and obesity. Spa owes its fame mainly mineral springs. In Luhačovice rises 6 natural springs and drilled dozens of sources. The most famous and the most important source Luhačovských spa B> is a source Vincentka. The city has a large number of different cafes, wine bars, restaurants and confectionery. Do Luhačovic B> is now just do not go for treatment, but local conditions will satisfy people tourist, sports and socially based. For tourism in Luhačovice created special tours around the area with natural scenery. Around Luhačovic B> is evidence of the arrival of the Slavs in the territory of the Czech Republic, or castle ruins Serenyi. The city is also a sports hall, tennis courts and spa theater.
Accommodation Luhačovice
Number of results: 6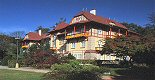 That Garni Hotel, located in a quiet park, offers spa services in neighbouring spa facilities. The reconstruct ...
Double room (1 night)91 EUR / 2280 CZK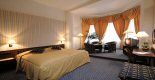 A unique art nouveau style hotel, favoured due to its unique 1930s atmosphere. This luxurious hotel is loc ...
Double room (1 night)108 EUR / 2700 CZK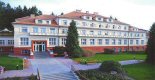 A traditional Spa Hotel offering a wide range of services under one roof, with a superb view of the most beaut ...
Double room (1 night)117 EUR / 2940 CZK
The comfortable Palace Spa Hotel dominates the centre of Luhačovice. Only recently have been opened its new ba ...
Double room (1 night)155 EUR / 3890 CZK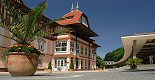 A gem among our Spa Hotels, located in the heart of the spa's pedestrian zone, offering excellent convalescenc ...
Double room (1 night)156 EUR / 3920 CZK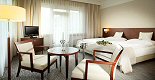 Luxurious rooms are equipped with TV/SAT, telephone, safe, mini-bar and free cable Internet connection. Rooms ...
Double room (1 night)165 EUR / 4140 CZK
Packages