Korenov Accommodation
Accommodation Korenov
Kořenov is a mountain village in Jablonec nad Nisou District, Liberec Region in Czech Republic. Kořenov is situated in Jizera Mountains near the well-known winter sports centre Harrachov. Part of the village Kořenov is situated in protected landscape area.
Accommodation Kořenov
Number of results: 1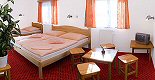 Hotel Korinek
lies in a scenic region of the mountain holiday resort Korenov in the village Prichovice, ...
Double room (1 night)52 EUR / 1300 CZK
Packages