Jihlava Accommodation
Accommodation Jihlava
Jihlava is the centre of Vysocina and its rich history is connected with many important personalities such as Jan Campanus Vodnanský, Karel Havlicek Borovsky, Antonin Chitussi or Gustav Mahler. Jihlava offers ideal possibilities for explorations of history and other local points of interest. In Jihlava you can visit the catacombs or the newly built Educational Mining Path.
Accommodation Jihlava
Number of results: 3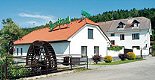 Mlynhotel, a complex of two stylish hotels - a former ancient mill -
Mlynhotel
1 and 150 meters distant ...
Double room (1 night)40 EUR / 1000 CZK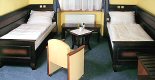 The complex of
Hotel Vivaldi
is located in the small village of Rančířov on the way from Prague to Vien ...
Double room (1 night)54 EUR / 1350 CZK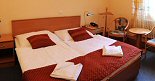 The Gustav Mahler Hotel
is located in the centre of the town Jihlava in the historical building of a fo ...
Double room (1 night)66 EUR / 1660 CZK
Packages