Cesky Krumlov Accommodation
Accommodation Cesky Krumlov
Český Krumlov is a small city in the South Bohemian Region of the Czech Republic, best known for the fine architecture and art of the historic old town and Český Krumlov Castle. Old Český Krumlov is a UNESCO World Heritage Site and was given this status along with the historic Prague castle district.
Accommodation Český Krumlov
Number of results: 3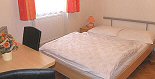 Newly opened
pension Rosa
located in re-constructed town center Český Krumlov gives to its guests possi ...
Double room (1 night)56 EUR / 1400 CZK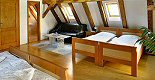 Hotel & restaurant Švamberský dům
is located in the very heart of the ancient Český Krumlov, a uniquely ...
Double room (1 night)100 EUR / 2500 CZK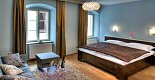 In the middle of the charming Český Krumlov you can find a hotel offering a much-welcome refuge and accommodat ...
Double room (1 night)116 EUR / 2900 CZK
Accommodation Cesky Krumlov
Packages