Brno Accommodation
Accommodation Brno
Brno is the second-largest city in the Czech Republic. It was founded in 1243, although the area had been settled since the 5th century. Today Brno is the seat of the Constitutional Court of the Czech Republic, Supreme Court, Supreme Administrative Court, Supreme Prosecutor's Office and Ombudsman.
Accommodation Brno
Number of results: 1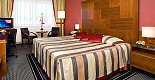 Hotel Holiday Inn Brno
is a luxury five-star hotel providing accommodation and congress services of a h ...
Double room (1 night)120 EUR / 3000 CZK
Packages