Prague Accommodation
There is no extra charge for our service.
We guarantee the same price as the hotel.
You pay at the hotel, pension, apartment or hostel.
For many locations we offer discounts off the hotel price.
We also offer transfer from airport to hotel.
News: Special accommodation packages at selected hotels
Prague Accommodation:
Filters:
Compare prices for your stay:
Prague Pensions:
Number of results: 3
Hotel Villa Milada
Prague 6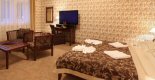 The
Hotel Villa Milada
is an entirely renovated, four-star hotel and restaurant located in the exquisit ...
Double room (1 night)70 EUR / 1752 CZK
Hotel Diplomat
Prague 6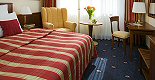 Hotel DIPLOMAT ****
is located near the historic centre and Prague Airport. Close to the Prague Castle, ...
Double room (1 night)89 EUR / 2225 CZK
Hotel Marriott Airport
Prague 6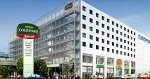 Prague, with its enchanting castles, bridges and old town squares, is one of the most intriguing cities in Eur ...
Double room (1 night)196 EUR / 4900 CZK
Výsledky hledání na mapě: